Short Path Distillation
by B/R Instrument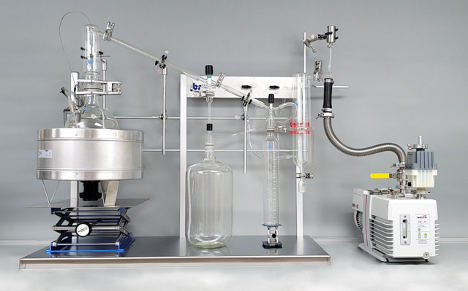 Made in the USA
Features
Distillation column with silvered vacuum jacket for distillate maximum purity
Heating/Stirring mantle prevents hot spots that lead to isomerization/degradation
Insulating top minimizes heat input to the sample
Liquid temperature probe monitors sample temperature
Vapor temperature probes monitors distillate composition
Vacuum valves and sensors for smooth pressure control
Graduated receivers
Cold Trap for vacuum pump and sensor protection
All joints are o-ring sealed – vacuum tight at low vacuums, no vacuum grease
Optional: Vacuum Pump and accessories
Optional: Circulating Bath
Advantages:
Upgradeability with standard components
Turn-key solutions possible
Base + Lab Stand + Clamps included (Lab Jacks optional)
Simple Operation
Maintain system vacuum while swapping out collected fractions
Specs:
Ultimate Vac: 0.01 mmHg
Pressure sensor ranges: 0.01 - 100 mmHg.
Main Body Distillation Rate: ~1 L/hr
Avg Distillation Temp: 160-190 C
Boiling Flask Sizes: 2L, 5 L, 12 L
Collection: 250 mL, 500 mL, 1 L, 9 L
Vacuum Pump Recommended Minimum: Edwards RV 12 or Welch CRV Pro 16
Circulating Bath Recommended: >-20 C to 100 C
Contact for pricing and more.
Want to learn how to distill hemp or cannabis extracts? We offer private on-your-site training as well as group classes.