ASTM D1160 Vacuum Distillation Apparatus
by B/R Instrument
An ASTM D1160 (ISO 6616) vacuum distillation apparatus for the distillation of petroleum products and biodiesel. All models conform to ASTM D1160
Models
Fully Automatic Operation
PC Control
Automatic Generation of Reports
Easily Export Data
Automatic Cleaning Cycle
PC Control of Distillation and Reporting
Automatic Control of Most Functions
Great Balance Between Automation and Cost
Automatic Generation of Reports
Able to Upgrade to Fully Automatic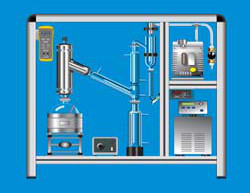 Turnkey Distillation System
Simple to Operate
Digital Display for Temperatures and Vacuum Level
Ergonomic Cabinet with Safety Shields
Fully Automatic D1160
The fully-automatic D1160 features fully automatic control from a PC along with standard ASTM glassware. Vacuum level, bath temperature, distillation rate and so forth are all programmable through the PC and are controlled automatically. Easy access to all components for easy operation and maintenance
Semi Automatic D1160
The semi-automatic D1160 features standard ASTM D1160 glassware enhanced with PC control. The vacuum level, bath temperature and heating rates are programmable. Hit the ENTER key when the volume reaches 5%, 10%, 20%..... Temperature and vacuum data are automatically recorded or can be entered manually. A complete report is generated, stored and printed at the end of the test.
Manually Operated ASTM D1160
The manually operated D1160 features standard ASTM D1160 glassware in a convenient mounting cabinet. Glassware, bath and vacuum system are all ergonomically mounted in a cabinet with safety shields. The manually operated apparatus can be upgraded to a semi-automatic or fully-automatic system at any time.